MBIT has embarked on a major research project into the vitality of apostolic religious life, funded by the Conrad N. Hilton Foundation. This is a globally reaching piece of research into the theological and practical understanding of women's religious identity, its aspirations and sources of vitality in UK, Ireland, and East and Central Africa.
Co-Director and MBIT Research Fellow, Catherine Sexton, has already led early feasibility research discussions with communities from Kenya, Malawi, Tanzania, Uganda, and Zambia, refining the project in the light of the needs of women in the region.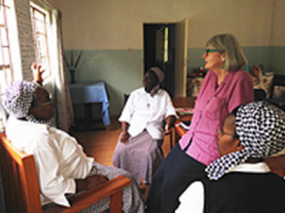 Catherine with the Daughters of the Redeemer in Zambia, on a UISG and GHR Foundation project
In the UK and Ireland, the project will concentrate on new entrants since the year 2000, exploring their hopes and expectations for religious life, with the goal of enriching and developing opportunities for deeper theological reflection on women's religious identity.
This research also extends work already concluded in the UK and Ireland: the earlier project took the form of engaging apostolic religious women in considering the sources of vitality in their identity and practice today, and creating opportunities for continuing reflection by these women and amongst other theologians. The Key Findings (PDF File) and Final Report (PDF File) from this project are already available.
The project is being conducted in collaboration with the Centre for Catholic Studies, University of Durham and the Religious Life Institute at Heythrop College, University of London.