MA in Contemporary Ethics
An Anglia Ruskin University degree created and taught by the Cambridge Theological Federation
The MA in Contemporary Ethics gives students an understanding of the philosophical concepts of ethics. Through critical engagement with the discipline and literature of ethics you will learn about the link between theoretical perspectives and their applicability in contemporary contexts.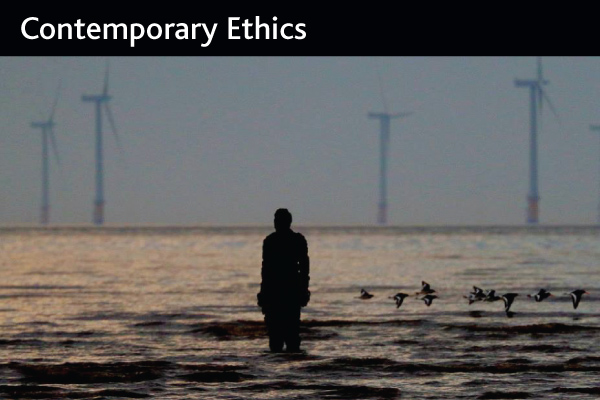 Available as
Postgraduate Certificate in Contemporary Ethics (2 modules)
Postgraduate Diploma in Contemporary Ethics (4 modules)
MA in Contemporary Ethics (4 modules and a 15,000 word project)
Options
Available full-time or part-time
Choose from online or classroom lectures and seminars
Some modules will be available by block teaching in Cambridge over one or two weeks
Students will be supported to:
gain an in-depth understanding of ethics and its applicability in a context of cultural and religious pluralism;
learn the conceptual tools for insight into the processes of moral reasoning, development and decision making in private and public life;
encounter a diversity of approaches, engaging critically with divergent views of the role of ethics in public life;
relate the discourse of ethics to a wide range of contemporary personal, professional and public issues;
undertake a detailed exploration of some issues of significance in the contemporary context.

Following the course, our hope is that you will be able to contribute to social transformation through continued critical reflection and engagement with personal, organisational, and public values and ethics.
| | | |
| --- | --- | --- |
| Postgraduate Certificate | Postgraduate Diploma | MA |
| Human Condition | Human Condition | Human Condition |
| Moral Development, Moral Reasoning and Decision Making | Moral Development, Moral Reasoning and Decision Making | Moral Development, Moral Reasoning and Decision Making |
| | Plus two optional modules | Plus two optional modules |
| | | Plus a major project (15,000 words) |
Human Condition
This module is designed to resource students for the demands of theological and philosophical study at level 7, by focusing on the theme of the human condition as a complex topic contributive to all MA programme areas. This will give students the opportunity to develop a strong grounding in disciplinary concepts and methods particular to theology, from which and with which more specialist questions of ethics, spirituality, contemporary belief and pastoral care arise and interact.
Taking a thematic approach, this course begins by introducing some of the key theological concepts in a particular doctrinal area. Accompanying these conceptual contributions will be reflections on connections and distinctions with non-theological understandings from philosophy. From this doctrinal and philosophical grounding, students will be introduced to issues that arise when one addresses the human person in particular contexts or experiences.
Students should expect to receive contextualising input and to discuss these ideas and circumstances critically, developing their views of personhood as it informs their particular disciplinary commitment, and with a view to developing appropriate contextual sensitivity.
The assessment will comprise two components, one will be a critical source review of 2000 words, the other will be a 4000 word written assignment.
Moral Development, Reasoning and Decision Making
This module is compulsory for students taking the MA in Ethics, as a foundational disciplinary module, but is accessible to students undertaking other MAs in the CTF, who wish to consider ethics as element of their programme approach.
This module will introduce the students to different ways of thinking about moral matters and dilemmas within normative philosophical ethics. It will inquire into such questions as 'what makes an act right or wrong and the human being good or bad?'; 'how should one live?' (a Socratic question), 'what is the good life? (an Aristotelian question), 'how do we assess difficult moral situations?'; 'where our principles come from?'; 'why be moral?', 'do moral facts exist?'; 'what does moral living require of us, both as human beings and within our specific social, professional and vocational roles?'.
In searching for answers the students will consult moral theories which are usually grouped into three broad categories: deontological (concerned with acts that fulfil our duties), teleological (concerned with the consequences of our acts; utilitarianism is its best known representative), and virtue-centered (focused upon the formation of good character with the virtues as its traits). The students will be helped to think in an informed and structured way about the meaning, role and patterns of moral reasoning and decision making within deontology, teleology, and virtue ethics.
Selected moral psychological theories of ego, cognitive and affective development as well as contemporary discussions within social and neuro psychology will also be studied, to offer a contained interdisciplinary element to this introductory module. Other themes for investigation will include: major influences on ethical debate (relativism; theistic and non-theistic approaches; science); conscience; Human Rights; law and morality.
Assessment will be by one 6,000 word assignment.
The normal entrance requirement for the postgraduate programmes in the Cambridge Theological Federation is a first- or good second-class honours degree in a relevant subject. Examples would include Ethics, Philosophy, Theology, or other related subjects.
The CTF will also consider graduates in other disciplines who may also be admitted to the programme on a case by case basis. The CTF will also take seriously, on a case by case basis, applications from candidates without an appropriate undergraduate degree but that can demonstrate significant relevant experience, such as within professional or ministerial roles, especially for candidates who have not had the opportunity to engage in formal higher education before.
Shortlisted applicants will be interviewed by the House they have applied to. The Federation reserves the right not to admit applicants who do not satisfactorily demonstrate their motivation or ability to fit into the learning community of the chosen Federation House. Applicants can only be admitted if the interview confirms their teachability, and if there is clear indication that they are able to establish and maintain meaningful learning relationships with their tutors and fellow students
English Language requirements
Our standard entry criteria for postgraduate courses is IELTS 6.5 or equivalent, with nothing lower than 5.5 in any of the four elements (listening, speaking, reading and writing).
We also accept the following English language tests as equivalent to IELTS 6.5 with 5.5 in each element:
ETS TOEFL iBT with 88 overall and a minimum of 17 in Writing and Listening, 18 in Reading and 20 in Speaking
Pearson PTE with 61 overall and a minimum of 51 in all components.
However, students requiring visas to study full time in the UK should note that the government will only accept an IELTS result as evidence of meeting the English language requirement.
Our degrees validated by Anglia Ruskin University are offered through the following four of our member institutions. Email any questions you have to the Director of Studies.
Costs are on our fees page.
Application forms are available from our applications page.