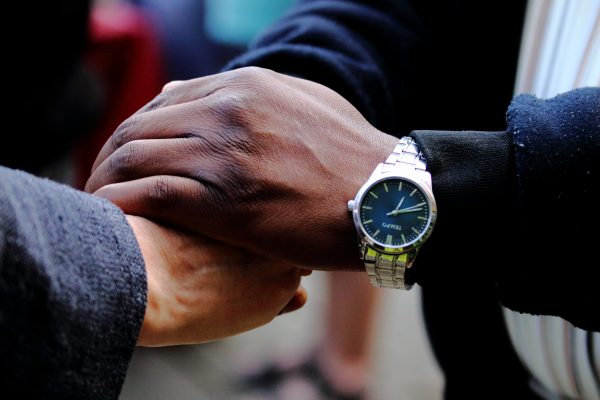 Available as
Postgraduate Certificate in Chaplaincy and Pastoral Care (2 compulsory modules)
Postgraduate Diploma in Chaplaincy and Pastoral Care (4 modules)
MA in Chaplaincy and Pastoral Care (4 modules and a 15,000 word project)
Options
Choose from online or classroom lectures and seminars
Some modules will be available by block teaching in Cambridge over one or two weeks
Students will be supported to:
relate reflectively and reflexively to models and approaches to chaplaincy and pastoral care
reflect theologically on issues of significance within the contemporary context of chaplaincy and pastoral care
develop as a theologically reflective practitioner as part of your personal and professional development
develop capabilities and competences appropriate to your present or future role(s)
| | | |
| --- | --- | --- |
| Postgraduate Certificate | Postgraduate Diploma | MA |
| Models of Chaplaincy and Pastoral Care | Models of Chaplaincy and Pastoral Care | Models of Chaplaincy and Pastoral Care |
| Pastoral Placement | Pastoral Placement | Pastoral Placement |
| | Plus two optional modules | Plus two optional modules |
| | | Plus a major project (15,000 words) |
Models of Chaplaincy and Pastoral Care
This module will enable students to explore the history of pastoral theology and the practices of pastoral care in a variety of Christian traditions. It will uncover ways in which these dimensions are now in dialogue with multi-cultural, multi-faith and non-religious settings and insights. It will seek some of the ways in which social science thinking and practice has entered into critical dialogue with established ecclesial practices and understandings. Participants will be expected to contribute their own experiences, practice and contexts into the emerging and developing conversation surrounding contemporary pastoral theology as a discipline and its outworking in Church, chaplaincy and wider society today.
The aim of this module is to enable participants to discover and draw upon the variety of traditions and lines of thinking that have influenced the practices of pastoral care within the wider Christian community. Using literature, case studies and personal experiences, the variety of ways in which different traditions engage in contemporary contexts of care will be explored. It is not assumed that all students will be currently working within chaplaincy settings or holding formal pastoral care roles. However, the experiences of giving and receiving care by all participants will be essential elements in the discussions that develop throughout the module.
It is envisaged that students will engage with preparatory material provided through the Cambridge Theological Federation's Virtual Learning Environment. They will attend a week's 'block teaching' in Cambridge (20 contact hours) including lectures and seminar discussions or this course can be delivered asynchronously. Learning will continue to be supported by material uploaded to the VLE and through contact with peers and tutors.
Assessment will be by one 6000-word assignment.
The normal entrance requirement for the postgraduate programmes in the Cambridge Theological Federation is a first- or good second-class honours degree in a relevant subject. Examples would include Ethics, Philosophy, Theology, or other related subjects.
The CTF will also consider graduates in other disciplines who may also be admitted to the programme on a case by case basis. The CTF will also take seriously, on a case by case basis, applications from candidates without an appropriate undergraduate degree but that can demonstrate significant relevant experience, such as within professional or ministerial roles, especially for candidates who have not had the opportunity to engage in formal higher education before.
Shortlisted applicants will be interviewed by the House they have applied to. The Federation reserves the right not to admit applicants who do not satisfactorily demonstrate their motivation or ability to fit into the learning community of the chosen Federation House. Applicants can only be admitted if the interview confirms their teachability, and if there is clear indication that they are able to establish and maintain meaningful learning relationships with their tutors and fellow students.
English Language requirements
Our standard entry criteria for postgraduate courses is IELTS 6.5 or equivalent, with nothing lower than 5.5 in any of the four elements (listening, speaking, reading and writing).
We also accept the following English language tests as equivalent to IELTS 6.5 with 5.5 in each element:
ETS TOEFL iBT with 88 overall and a minimum of 17 in Writing and Listening, 18 in Reading and 20 in Speaking
Pearson PTE with 61 overall and a minimum of 51 in all components.
However, students requiring visas to study full time in the UK should note that the government will only accept an IELTS result as evidence of meeting the English language requirement.
Our degrees validated by Anglia Ruskin University are offered through the following of our member institutions. Email any questions you have to the Director of Studies.
Costs are on our fees page.